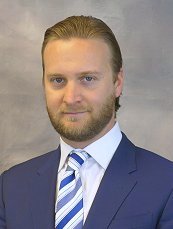 Background
Paulo de Almeida's practice is focused on prosecuting U.S. and international trademark applications at the United States Patent and Trademark Office (USPTO), as well as representing clients before the Trademark Trial and Appeal Board (TTAB) in ex parte appeals, oppositions, and cancellations. He also counsels clients in copyright clearance, licensing and enforcement matters.
Paulo de Almeida is a strong advocate for robust intellectual property protection, although he zealously defends his clients against trademark over-policing and other bad-faith enforcement tactics.
He also believes that trademark clearance is essential to the long-term success of a trademark, and encourages his clients to search for conflicting marks prior to adopting them.
Prior to joining the firm, Paulo de Almeida served as a Judicial Extern to the Honorable Consuelo B. Marshall of the United States District Court for the Central District of California. He also held positions at large entertainment companies, including Universal Music Group and Fox Entertainment Group, where he developed expertise in various aspects of intellectual property licensing and enforcement.
During law school, Paulo de Almeida served on the Editorial Board of the Loyola of Los Angeles Entertainment Law Review, where he oversaw the publication of many cutting-edge intellectual property-related articles, including his own anti-piracy-related publication, Unmasking the Mask-maker: Domain Privacy Services and Contributory Copyright Infringement, 31 LOY. L.A. ENT. L. REV (2011).
Paulo de Almeida is of Brazilian-American descent and speaks fluent Portuguese and conversational Spanish. He is accustomed to counseling clients in Asia, Europe, and South America, and his clients have come to rely on his exceptional communication skills and expertise in international trademark law.
Education
J.D., Loyola Law School, Los Angeles, CA
B.A., University of Southern California (USC), Los Angeles, CA
Admitted to Practice
State Bar of California
U. S. District Court for the Central District of California
Publications
Unmasking the Mask-maker: Domain Privacy Services and Contributory Copyright Infringement, 31 LOY. L.A. ENT. L. REV (2011)